The judge below is a good guy, the Honorable Harry T. Edwards.
Just another chapter in how judges can't get away from looking at changes and evolution in forensics (this time its fire science) in the most restrictive sense via improper legal reasoning and by saying that"unsettled" forensics means that old school experts are still credible. Some one should tell these blokes that there is no Supreme Court equivalent in the world of forensics. Here's a prime example: The bitemarkers (mentioned in this article as well) are still certified by the American Academy of Forensic Sciences.
Here's a quote from a LA Superior Court judge in this recent arson-based habeas corpus hearing.
In November, Los Angeles County Superior Court Judge William C. Ryan ruled that the new flashover evidence was insufficient to win Parks a new trial because the experts cannot agree on its significance. "The world of fire science and fire investigation is a complex area rife with differing opinions and contentious debates," Ryan wrote.
https://www.latimes.com/opinion/op-ed/la-oe-humes-forensic-evidence-20190113-story.html
It has been 10 years since the National Academy of Forensic Sciences put out its report on forensics and its failures and discrepancies. The  man below ( who co-chaired this effort, is the Honorable Harry T. Edwards), talks about the events since 2009. Here's a bit from the NAS findings:
The report not only exposed the paucity of scientific research to support forensic methods, it also detailed some dubious practices in crime laboratories, the absence of rigorous certification requirements and robust performance standards for practitioners, and the failure of forensic experts to use standard terminology in reporting on and testifying about the results of forensic investigations.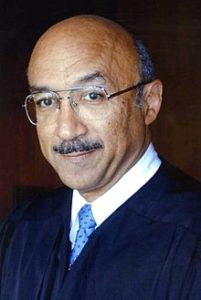 Click on Judge Edwards to read his 2019 perspective on the 10 years since NAS "Strengthening Forensic Science in the United States: A Path Forward."