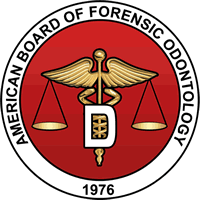 This makes 30 cases the infamous practitioners of "forensic" odontology have contributed to false convictions and indictments.
Needless to say, the few existing adherents to bitemark voodoo are still alive and well as members of the American Academy of Forensic Sciences. This bunch still refuses to act on all the past cases where their esteemed members have brought their brand of "trust me I'm a doctor"  into criminal courts. Radley Balko and Tucker Carrington's book, "The Cadaver King and the Country Dentist" brings this bitemark bunk into clear perspective.
Incredibly, some DA s are spending $$ to hire ABFOers (that's their logo above left) to come to evidentiary hearings to talk about how they have met data-research based scientific requirements for admissibility. This is after the NAS 2009 and PCAST blew them up.
Here's a couple of the go-to bitemarkers showing up  at scheduled Daubert hearing in New Orleans. The case is all about bitemarks,  its beleaguered past of wrongful convictions, and failed validity efforts.
Paula Brumit from Texas.
David Senn from Texas where both ABFO presidents (one past pres; the other pres-elect) went to the mat for bitemarks during the Texas Forensic Commission's "scrutiny" of bitemarks and wrongful convictions. They lost their proverbial shorts and soon thereafter Steven Mark Chaney was released from years in prison. Here he is with his Mom.
Here's THAT story titled "Lives in  Balance, Texas Leads Scrutiny of Bite-Mark Forensics. "
On to the Swinton exoneration.