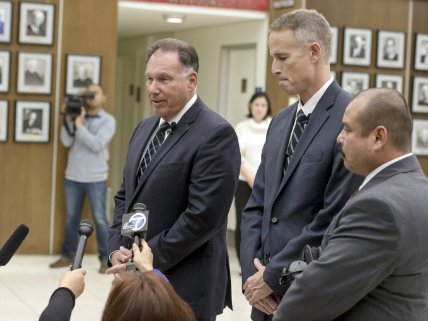 Opinions and Commentary and the Bad Side of Criminal Justice
Spurred by a series of botched murder cases  and little accountability, a California lawmaker wants to rein in prosecutorial misconduct. Californian's so disposed should talk with their state reps. I have.
Blood Left at Scene Can Indicate Criminal's Age (nothing wrong with this if the validity testing runs true).
Blood biomarkers could help investigators narrow down a pool of suspects more quickly
Poll Shows Millenials Increasingly Worried about Police brutality and Criminal Justice (Good)
We can assume wrongful convictions (50% helped by forensic wits) are included in the CJ category.
Stealing from the drug locker (bad)
A forensic scientist admitted Monday in U.S. District Court that she stole as many as 700 pills from 50 separate specimens of evidence submitted to Oregon State Crime labs over two years.
Nika Elise Larsen, 36, pleaded guilty to two counts of obtaining a controlled substance by misrepresentation, fraud and deception.
Larsen, who began working for the state in May 2007, admitted that she stole drugs, including morphine, hydrocodone, methadone and methamphetamine, while processing and overseeing cases. An investigation found Larsen took the pills in Umatilla County between December 2013 and November 2014, and in Deschutes County between November 2014 and Aug. 27, 2015.
---
Thanks to the NY DNA Legal Aid Society @celiagivens
Following the 2014 NY State Police crime lab scandal, the Albany Times-Union writes: "Citing an unrelated lawsuit brought by some former lab employees, State Police won't talk about the backlog… That backlog, says a retired lab director, stems from the agency's refusal to implement new computer software for DNA analysis, for reasons that are unclear. Among the possibilities that have been offered is a concern that the new, more precise DNA process could refute previous work at the lab, jeopardizing some convictions."
Responding to the Iowa forensic analyst who was fired for racial bias, the Midwest Innocence Project wrote a Letter to the Editor in the Des Moines Register, stating: "This is an opportunity to ask for measures to protect forensic scientists by incorporating blind forensic testing in protocols, which will protect results from racial or social bias (intentional or not), and from the natural functions of the brain that seek to make sense of our observations. This assures unbiased analysts do not have to work in the shadow of mistrust. Blind results can let science speak for itself."
From the Orange County Register: "We should not be encouraging police to take DNA evidence from everyone they encounter and building a massive biometric database, particularly with evidence from innocent citizens…Police officers are not scientists, but even if the Rapid DNA system is easy enough for anyone to use, experience with the roadside drug tests has shown that the results can be far from reliable, resulting in the incarceration of innocent people. Until greater accuracy of such testing can be verified, Congress and local police should not even consider authorizing or using them."
Scientists lack consensus on accuracy of fingerprint and voice recognition technology. Phys.org notes, "The widespread and strongly held belief in the uniqueness of human voices and other physical features characterizes and exacerbates a chronic general problem: people misunderstand the nature and significance of quantitative scientific evidence." (Phys.org)
Privacy battle continues after FBI Director James Comey announces plans to address Congress about 650 locked phones that law enforcement cannot access because of encryption (Ars Technica)
In his remarks to the American Bar Association last week, Comey stated: "We have never had absolute privacy in this country. Cars, safe deposit boxes, our apartments, our houses, even the contents of our minds—any one of us, in appropriate circumstances, can be compelled to say what we saw."  Mar Rotenberg of the Electronic Privacy Information Center (EPIC) offered a counterpoint address to the gathering, noting "I will concede Mr. Comey has a problem with his 500 phones, but he should be concerned that consumers have a problem with their 3 million phones that would be subject to misuse [without strong encryption]."
Related: New Technique Could Help Law Enforcement Collect Smartphone Data